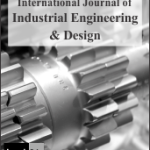 International Journal of Industrial Engineering and Design
Editors Overview
ijied maintains an Editorial Board of practicing researchers from around the world, to ensure manuscripts are handled by editors who are experts in the field of study.
Focus and Scope
About the Journal
International Journal of Industrial Engineering and Design [Applied(e)] is a peer-reviewed hybrid open-access journal launched in 2015 that is devoted to the publication of fundamental studies in industrial design and engineering, with an emphasis on operational research. Journal particularly welcomes papers from newly emerging areas as well as traditional fields that form the core of industrial engineering. Journal welcomes all major types of scientific communications original research articles, review articles, editorials as well as short communication that fall under the focus and scope of the journal. The nature of information expected from contributions should preferably be based on the practical aspect of the subject.
Focus and Scope
Operations research and optimization techniques: Objective Function, Operation Research, Decision Variable, Integer Programming, Linear Programming Problem.

Supply chain management and logistics: Internet of Things (IoT), supply chain management, industry 4.0, supply chain processes, smart supply chain, Supply chains, Radio frequency identification, Internet, Supply chain management, Information analysis, IP networks, Information retrieval, Drugs, Flowcharts, Pharmaceuticals.

Systems simulation and stochastic processes: Simulation, Stochastic processes, Engineering mechanics, Fast Fourier transforms, Random vibration, Spectral energy distribution, Structural engineering.

Statistical process control or quality control: Batch processes, Control charts, Fault diagnosis, Multivariable processes, Principal component analysis, Process monitoring, Statistical process control.

Predetermined motion time system: Working conditions (physical), Manufacturing, assembly workload, Methods-Time Measurement (MTM), Modular Arrangement of Predetermined Time Standards (MODAPTS), and Maynard Operation Sequence Technique (MOST).

Productivity improvement: Construction Productivity, Construction Industry, Productivity Trends, USA, Construction Industry, Construction Productivity, Manufacturing, Cambodia, Continuous Improvement, Program & Project Management, Supply Chain Management.

Quality assurance, and inventory control: Quality assurance system, Radio frequency identification, Improvement plan, Economic Production Quantity, Inventory, Quality.

System and personnel safety: Personnel safety of the enterprise, personnel potential, personnel, mechanism of ensuring personnel safety of the enterprise, Personnel, Safety, Structural beams, Linear particle accelerator, Protection, Machine control, Control systems, Storage rings, System testing, X-rays.

Value analysis: Product quality and reliability, Reliability, Quality assessment, Product design, Health and safety, Manufacturing, Total quality management, Manufacturing processes, Degradation, Reliability, Upper bound, Manufacturing systems, Assembly, the Engineering profession, Manufacturing industries, Random variables, Semiconductor device noise.
Keywords
Quality assurance
Inventory control
Human resource management
Logistics
Supply chain management
Open Access Statement
The International Journal of Industrial Engineering and Design (ijied) is an open-access (OA) publication which provides immediate open access to its content on the principle that making research freely available to the public supports a greater global exchange of knowledge. All published works will be available to a worldwide audience, free, immediately upon publication. Publication in the journal is subject to payment of an article processing charge (APC). The APC serves to support the journal and ensures that articles are freely accessible online in perpetuity under a Creative Commons licenses.
Publication Ethics Statement
ijied fully adhere to Code of Conduct of Publication Ethics (COPE) and to its Best Practice Guidelines. The Editorial Team enforces a rigorous peer-review process with strict ethical policies and standards to ensure the addition of high-quality scientific studies to the field of scholarly publication. In cases where ijied becomes aware of ethical issues, it is committed to investigating and taking necessary actions to maintain the integrity of the literature and ensure the safety of research participants. Click here to read more about the Research & Publication virtue ethics
Content Disclaimer
All the information's, opinions, and views mentioned here represents the authors and the contributions of the articles.
Publication of articles, advertisements, or product information does not constitute endorsement or approval by the journal.
cannot be help responsible for any error or consequences while using the information updated in this journal.
Although every effort is done by ijied to see that there's no any inaccurate data, misleading data, opinion or statement within the journal, the data and opinions appearing in the articles are the responsibility of the contributors concerned.